Saturday, April 16, 2005
Carousing and card-playing until all hours with a group of expats I'll unambiguously call 'the guys.' Former poker dealer from Atlantic City turned loveable military pug wants nothing more out of the game than to keep the commentary running the entire time (sans inflection) and to instill in his fellow card-players an undying fidelity to all things poker. For before you know it, it's low hold card wild 7-card stud, suicide kings and one-eyed jacks, hold 'em with antes that exceed the monthly GDPs of many Croatian countries. Fortunes were made, reputations were lost. And then all of a sudden it's: jacks and 5s! Motown! I nearly fell out of my chair.

Sunday, March 20, 2005
That's how I like my community of the faithful
(That's right -- the sign outside the best-preserved synagogue in Hungary, located in Pecs (about 250km south of Budapest), *may or may not* read: "good and cheap."
Friday, March 18, 2005
Zeljka's Vujcic's latest
article
in Transitions Online offers a pretty thorough summary of the issues involved in Wednesday's EU Council decision not to open membership negotiations with Croatia this week. (I do, however, somewhat take issue with labeling the decision "unprecedent." Has the Council ever postponed talks over an ICTY indictment? No, but then again it's never considered an application for membership from a country served ICTY indictments against its citizens. I mean, Rwanda hasn't even *applied.*)
Thursday, March 17, 2005
Am I just spinning my wheels with Blogger? Should I make the big $8.95 plunge to TypePad? (And for that matter, any ideas why the posts I submit by email always come out misformatted?)

While pretty everyone in the foreground was prattling on about the EU Council of Minister's Wednesday evening decision to
postpone
opening membership
negotiations
with Croatia pending full cooperation with
ICTY
, unnaturally
warm weather
and rather lousy living conditions brought a few thousand pensioners to the streets of Zagreb in protest. Mind you, Croatia spends more on pensions that pretty much every other country in Europe -- an impressive statement when you look at
the competition
. But with retirement ages below 50, special exemptions for everyone from ballerinas to war veterans, and some of the most untargeted disabilities entitlements I've ever seen, fully one quarter of the Croatian population receives a pension at any one time. Pensioners constitute over a third of the electorate. Go on. Rile
them
at your (political) peril.
So with tensions mounting in the square on Wednesday, a prominent city official took to the stage to simultaneously egg on the pensioners and playdown the Council decision. Unfortunately, something went wrong in the delivery:
"The problem with Croatia is not Ante Gotovina! The problem is you!"
Much cheering (and a little snickering from Joshie) ensued.
Saturday, March 12, 2005
This, ladies and gentlemen, is the story of my life.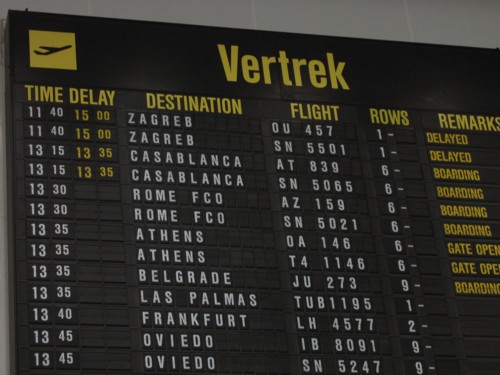 I'm sorry -- did you say...? That's right. There is *no* waffle iron.
That?! We waited 6 weeks for that? Look. (Luk? Did you say 'arch?' Onion?) I'm pacing myself here. I mean, it's not like you can just turn this wit on and off. I'm not a faucet, per se, you know. You have to warm me up. Take me out to dinner first. Whisper sweet things in my ear. Tell me you read my article in Foreign Affairs. Tell you you're prepared to devote your life to undoing what Noam Chomsky's done. Tell me George Soros is just one of *many* self-indulgent Hungarian men. Lie to me if you have to. And then, perhaps, we'll see if we can't blog about. So as I was saying: that's right, I'm proud to announce: it's started being funny again.
Friday, January 28, 2005
A message from the chief (interviewed in today's
NY Times
):
He laughed when asked about his admission on Wednesday, during a news conference, that he had not read the article in the periodical Foreign Affairs written in 2000 by Condoleezza Rice, his new secretary of state, laying out his foreign policy.
"I don't know what you think the world is like, but a lot of people don't just sit around reading Foreign Affairs," he said, chuckling. "I know this is shocking to you."
Incidentally, my
subscription
*may or may not* be good through 2012.
(Read the article yourself
here
. It's a pretty solid roadmap for U.S. foreign policy since the 2000 Presidential Election -- designed, in this article, to 'produce a leader comfortable with America's special role as world leader.' This is all I'm saying.)
Wednesday, January 19, 2005
Today
Slovenia
may or may not have accepted my Friendster invitation. (Is this bliss? Why yes, thank you for asking, yes it is.)
Thank you, ladies and gentlemen. I'll be here all week. Be sure to tip your waitress.
Thursday, January 13, 2005
I'll say it this time: I could do better.

Sunday, January 09, 2005
I can't help but notice: $647 roundtrip Zagreb to Dulles leaving on Friday morning. The goal: attend
Restaurant Week
. Ah,
Air France
! You are a cruel, cruel temptress!
(Come on, folks, it's not like I haven't done stupid things before... it's not like you all need to tie up my comments pages listing them or anything. I mean honestly.)
Danas je . Čitate stalno Joshievo izaslanstvo.